Some Special Memories of Dad & Mom's Last Days
Experiences from Dad's last days – by Pam (daughter)
Jesus promised that He would be with us until the end. There is grace in life … there is grace in death. There are two things that happened in my father's life – both of which show the grace, mercy and kindness of God.
Growing up I do not remember my father showing much interest in spiritual things, though occasionally I spoke with him about the Lord. A few weeks before his death, while sitting at his bed talking with him, I asked him if the Lord had ever appeared to him, perhaps in a dream or vision. He said, "no". I asked him if he had ever seen an angel or a demon. He said, "No, but there were times when it seemed like someone came and sat on the bed. I could feel the bed go down, but I saw no one." I told him I had often prayed that God would send His angels to help him and Mom. Relaying this to Mom sometime after his death, she confirmed he had shared this also with her. He had even written a poem about it - that when this happened, when this "person" came, he would always feel better. Unfortunately, Mom has yet been unable to find this poem.
Last Words: "Jesus, help me"
The week before Daddy died, he had been moved from the hospital to a nursing home. Mom and I went to visit him one evening. He was laboring to breathe. Life was going out of him. I sensed somehow that he only had a very few minutes to live. Mom rushed to the nurse's station for help. I said, "Daddy, you really need God now." He said, "I know it". I said, "Daddy, call on the name of Jesus, and say help me, help me." Within a minute he screamed out, "Jesus, help me, help me". It sounded like a desperate man screaming for the doctor down the hall to come immediately. Those were the last words he ever spoke – "Jesus, help me". The squad came and began working to "bring him back". He was rushed from the nursing home to the hospital where he lived in a coma for five days.
Visiting him in the hospital daily, I talked with him and at times prayed with him. It is commonly known that people in comas can hear and respond, though perhaps not in a way we can always see and understand. After five days the doctors said he was only living from the machines and it was time to disconnect them. We were told Daddy would probably live just a matter of hours on his own. He was moved into a private room where our family could be alone with him. Mom, my brother and I were with him. Mom leaned over and asked him for a kiss but there was no response. Desiring for Mom to have a final kiss from Dad, I leaned toward his ear and said loudly, "Dad, Mom wants a kiss". He heard and puckered up for her! Amazing, but a testimony that he could hear, understand and respond.
Right & Left Hand Movements:
Having made no significant movements for days, Daddy suddenly raised his right hand, bending it from the elbow at the mattress. It seemed as if he was giving some kind of hand signal, as if to raise his hand to say "yes" or vote for something. Mom wondered what he was doing. He didn't seem to be signaling to us. I thought that in my church, we often raise our hands to the Lord and at times see people in evangelistic crusades raise their hand if they want to accept Christ. I wondered if this was what he was doing.
A few minutes later he seemed to be occupied with something in the upper left corner of the room at the ceiling. He was very restless and somewhat tormented. He suddenly lifted his left hand and began making movements against what he was seeing, as if to push something or someone away, or to say "no" to what was going on. It was as though Daddy was in a battle for his soul between the forces of heaven and hell – they both wanted him. I left the room to call a friend and asked for prayer. She called another friend and they prayed over the telephone. By the time I returned to Daddy's room, he was again at peace. Whatever had been troubling him was gone. Then interestingly, he lifted his right hand again as if he were voting or saying "yes" to something. Then somehow sensing himself that it was about over, he put one hand on his stomach, put the other hand on top of the first … and died, hands crossed…at peace. It was June 10, 2002 at 10:10 pm at the hospital.
Over the years I have been with several people at the time of their death. Each had a different experience. The Bible promises that God offers us grace for salvation in Christ until the end - but we must make a clear choice to receive Him. The death bed is the last chance, and not the time to be wishy-washy or non-committal. It's the final Moment for a personal decision.
I may never know, unless it is revealed in eternity, what was going on that night with Daddy. Was he hallucinating? Maybe. OR could it be that he was given one more chance to say "yes" or "no" to God? His last words only a few days before had been "Jesus, help me." His hand movements and signals seemed to have been showing or saying something to someone. I often prayed and asked the Lord to show me what was going on that evening. A few weeks after his death, I saw Daddy in a dream, and asked him if he was OK. He was at peace and said, "yes". I guess that was what I had really wanted to know.
What Have You Done with Christ's Offer?
We live in a day when God and faith are mocked and scorned; when many people have no fear of the Almighty and His day of judgment; when many make all kinds of excuses for living without Him; when fewer people read their Bibles or even care what it says. But God will not be mocked. He will have the last word. In His mercy He will give each of us in the course of our lives many opportunities to decide what we will do with Him. What have you done till now with Christ and His Gospel of salvation? You can decide this very day by praying this prayer of surrender:
"Lord Jesus, I confess that I am a sinner and that You alone are my only hope for salvation. I ask You to be my Savior. Please forgive me for all the sins I have ever committed against You and others. As You have forgiven me, so I choose from my heart to forgive all those who have ever sinned against me. Be merciful to them as You have been merciful to me. Be my Shepherd and when the time comes, walk through the valley of the shadow of death with me. I want to spend eternity in heaven with You. Amen."
A year before Daddy died, a friend and I visited him in the hospital. We were talking about making our lives right with God. He was very open that day as we talked. I asked him if he had confessed his sins to God. He said "yes" and then had a questioning look on his face—as if to ask if there was something more he should do. I asked him if he would like me to lead him through a prayer. He said "yes", and repeated after me a prayer asking for forgiveness and surrendering his life to God. A year went by. Then apparently in the minutes before his death June 10, 2002 the Lord gave him a chance to affirm his decision. Jesus had said that He would be with us until the end...and He was with Daddy until the end. I believe I will see him again one day in heaven…all because of God's wonderful grace!
The Lord is my Shepherd; I shall not want.He maketh me to lie down in green pastures:
He leadeth me beside still waters. He restoreth my soul:
he leadeth me in the paths of righteousness for His name's sake.
Yea, though I walk through the valley of the shadow of death,
I will fear no evil: for thou art with me; thy rod and thy staff they comfort me.
Thou preparest a table before me in the presence of mine enemies:
thou anointest my head with oil; my cup runneth over.
Surely goodness and mercy shall follow me all the days of my life:
and I will dwell in the house of the Lord forever.
- Psalm 23 -
A Poem of Tribute to Mom at Dad's Death
by Pam
A friend in his youth, a woman for life,
Many, many years his faithful wife.
Seeing him through—thick and thin,
And doing it most with uplifted chin.
A woman who believed in the talent of this man,
Who tried her best to work out a plan
For him to be successful in what he would do,
Often creating a situation where he would "stew"!
Life was not always easy with Charles R -
Especially when she was driving the car!
Patience was not a virtue he could claim
With words and tone—it was about the same!
Mom gave him her best and that we could see,
Well she managed wife, chauffeur & caretaker to be.
She gave her last strength to the man she loved,
One day she'll be rewarded for it from Above.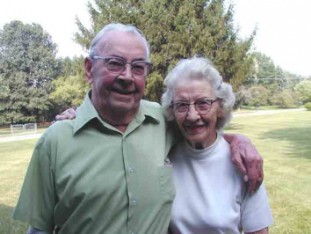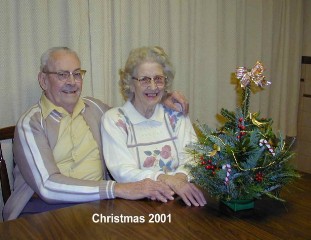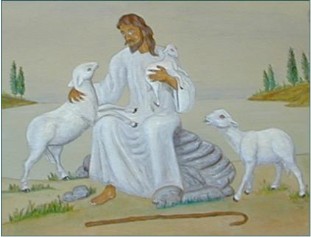 Picture dad didn´t get finished;
Painted by John Schuder in 2004